In today's world Time is an increasingly valuable asset. We constantly complain about lack of Time. Yet how often do we misuse the time we do have by procrastinating and putting off what we need to attend to? NOW is the only moment we have....to think, to speak, to act. So this evening let us focus on getting rid of this habit and learn to live in this moment and use our Time wisely.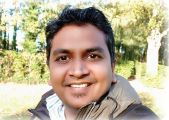 About Speaker:
Vijay, Design Engineer by profession, has good understanding of East and West cultures as he has lived in
Australia, India and now in the UK. He has a gentle sense of humour and loves to explore the practical
application of spirituality in daily life. Within the Brahma Kumaris, he helps and facilitates conversations,
workshops and global projects that empower youth and young adults.